Level 3 stationary system for 24h usage.
- Resistive to vandalism.
- Motivating fully visible biofeedbackõ system.
- System can be set up for usage in less than minutes, regardless of feature.
- Competition and split results.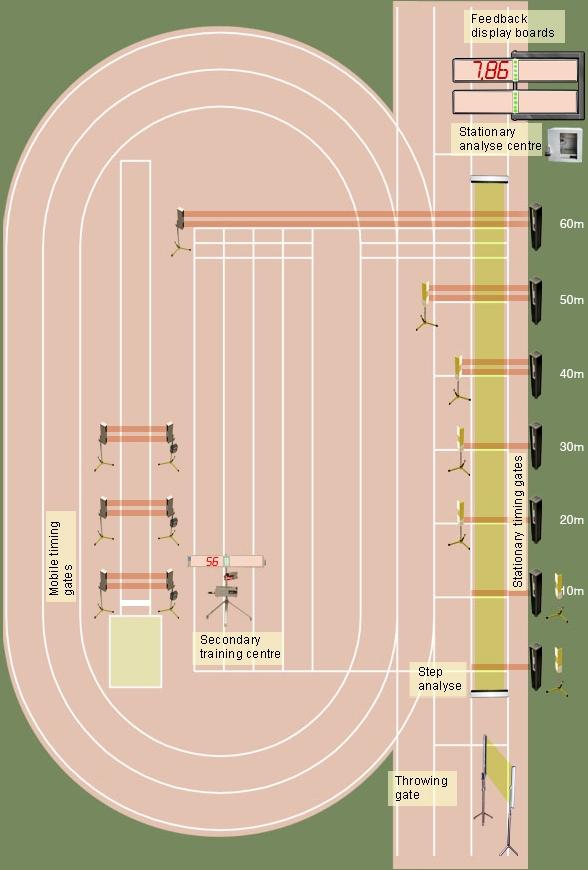 Spin Test has operated since 1991 and is specialized in design and production of special professional electronical equipment for top athletes. From this time, Spin Test has also designed and produced photosensors for industry , guarding of outdoor territories or scientific javelin throwing analyze system for KIHU, Jyväskylä.
This 7 m high throwing gate timing system consists about 400 ultrafast photosensors. It's results were also used by IAAF in case of internarional rules about women' javelin balancing.
Spin Test was also first in the world (in 1992 ) who designed light beam contact platvorm for jumps and steps, also known as IR mat or IR carpet
Since 2000 Spin Test has been specializing in designing and producing only dual or multibeam photosensors for measure speed only from athlete's torso without swinging arms' errors.
Philosophy of Spin Test is to maximize athletes' perfomance results quality, consisting of following parts
- athletes' perfomance measurement accuracy
1. sensors detecting accuracy, example dual beam photosensors
2.biomechanical accuracy
- mobility - system can always be with athletes and coatches
- unique in the world display feedback system will motivate athletes to perform their very best
results and to try even more. Biofeedback effect is maximized for the 6...10 athletes' groups and
also very high level athletes almost always comment our systems training drills -"lets do more -
don't stop."
Spin Test timing equipments are modular systems for different numbers and types of photosensors or the other sensors , wired/ wireless connection systems , timers/ analyzers and biofeedback displays.
- miniature personal system for track and field is the world smallest, weights about 3 kg, dual beam timing equipment enables measurement of running and starts speed and reaction.
- traditional personal timing equipment enables measurement of running speed, jumping, throwing, step analyze, reaction and endurance and displays information by the feedback motivation system for maximize athletes' perfomance.
- 3 level stationary system for indoor track and field athlete halls is unique in the world.
- ultra perfect display biofeedback system. Most important results visible instantly for all athletes and coatches. Athletes can perform their best results
- set up time 1-3 minutes - for all several very effective training and testing drills about 10 times quicker from mobile timing equipment
- lot of running drills are all time in use automatically- hundreds of users, almost 100% from all runners, visiting indoor athlete hall